Lipedema vs. Lymphedema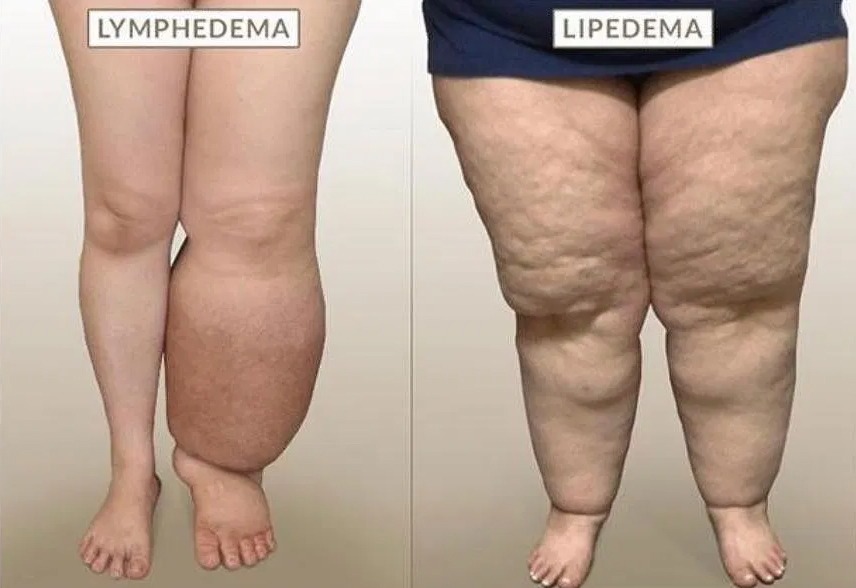 Lipedema affects both legs in a bilateral or symmetrical fashion. However, primary lymphedema only affects one leg in most cases. Swelling is asymmetric is both legs are affected in primary lymphedema. Lipedema doesn't involve the feet. Distribution of fat is symmetrical and located between the ankles all the way up to the hips. Conversely, in lymphedema the feet are involved in the swelling.
Lipedema is characterized as a symmetrical and chronically progressive accumulation of fat present in the subcutaneous tissue in women. The lower extremities are primarily affected. Lipedema may affect upper extremities as well. The condition is characterized by tenderness, easy bruising, and pain, in combination with symmetric enlargement of the limbs.
Plastic Surgery Institute of Atlanta, led by plastic surgeon Dr. Paul McCluskey, provides safe and proven lipedema treatments to patients in Atlanta, Marietta, Georgia, and surrounding locations.
Lymphedema vs. Lipedema
Lipedema
Lipedema is a progressive and chronic accumulation of fat in the subcutaneous tissue. It almost always just affects women. Generally, lower extremities are affected, such as the buttocks, hips, and legs. However, in some women, lipedema may affect the arms as well.
Visually, lipedema is described as symmetric enlargement of the lower limbs. It is combined with easy bruising and tenderness. Patients with lipedema tend to have soft-rubbery skin. They may have nodules or small fatty lumps within the tissues. Thumb pressure in these fat nodules doesn't leave an indentation. Genetic and hormonal factors are the primary underlying cause for lipedema development.
Lymphedema
Lymphedema usually occurs after puberty and involves ankle or foot swelling. It affects both women and men at any age. Lipedema affects both legs in a symmetrical fashion, lymphedema affects only one leg. In lymphedema, the feet tend to swell. Stemmer sign, a form of diagnostic indicator is also positive. Pitting of the skin or indentation is present in lymphedema. Malformations of the lymphatic system are the primary cause of lymphedema.
Characteristics of Lipedema
This is a disorder that involves fat deposits in the legs and (maybe) arms
It can be successfully treated with PAL liposuction procedure
May occur spontaneously and affect multiple family members
Affects both arms and legs equally
Fat deposits tend to be painful
Results in gait or walking abnormality
Causes skeletal issues
Is worsened by obesity
Can be associated with lymphedema when present in the legs
Characteristics of Lymphedema
Lymphatic system disorder
Lymphatic drainage blockage that may cause tissue damage or inflammation
Can be spontaneous, but usually occurs after cancer treatment
Affects one leg or arm
Often associated with cellulitis or severe infections
Worsened by obesity
Treatment should be done by a certified lymphedema therapist
Can occur because of morbid obesity
Diagnosing Correctly is Crucial
Treatment for lymphedema will not help someone with lipedema. This makes it important to correctly diagnose the problem. Secondary lymphedema is developed in some patients with lipedema. This is called lipo-lymphedema where lymphatic system is affected by fat growth.
Cosmetic surgeon Dr. Paul McCluskey receives patients from Atlanta, Marietta, Georgia, and nearby areas for innovative and advanced lipedema surgery procedures.
Contact Marietta, Georgia Plastic Surgeon Dr. Paul McCluskey at the Plastic Surgery
Institute

of Atlanta for a Consultation

For more information on procedures and treatments offered by Plastic Surgeon, Dr. Paul McCluskey and the Plastic Surgery Institute of Atlanta, visit:

Serving patients in and around Marietta, Atlanta, Roswell, Sandy Springs, Alpharetta, Buckhead, Morningside/Lenox Park, Virginia-Highland, Candler Park, Midtown, Inman Park, Poncey-Highland, Ormewood Park, Georgia and other surrounding areas.