Lipedema Treatment With Liposuction Before And After Photos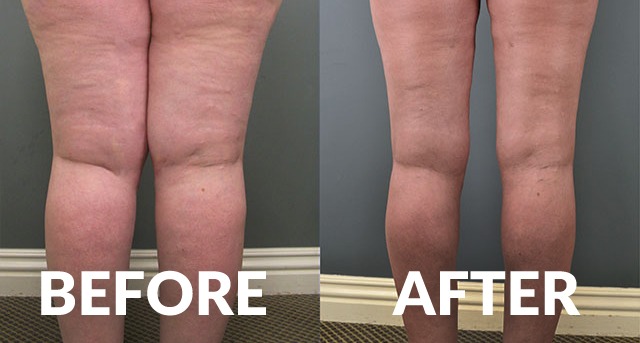 Lipedema is an adipose tissue disorder impacting fat cells. Patients usually experience disproportionate and fast development of fat cells in this condition. Fat accumulation is usually present in the legs. It is accompanied by touch sensitivity, easy bruising, and pain.
During the initial consultation, your surgeon will show you before and after images of lipedema liposuction treatment on past patients. This is to help you attain clarity on what the procedure can or cannot do for you.
Plastic Surgery Institute of Atlanta, led by plastic surgeon Dr. Paul McCluskey, provides safe and proven lipedema treatments to patients in Atlanta, Marietta, Georgia, and surrounding communities.
Lipedema Treatment Before and After Images – An Overview
Lipedema before and after pictures refers to a group or pair of images of past patients that have had liposuction with successful results. The images are taken before the procedure and after once post-surgical bruising and inflammation have resolved. This is when the true outcome of the procedure becomes visible.
Surgeons are supposed to acquire before and after images only after getting express consent of the relevant patient. The images need to be displayed in a discreet and judicious manner. The surgeon, according to standard protocol, should not disclose the patient's identity.
The surgeon will only present pictures if it will help prospective patients attain a clearer idea about the likely outcome of the surgery and help them make a poignant decision. Now these images are not on the website now, but we all know websites don't take that long to be updated. You will have to check out these images during the consultation which is critical anyway.
Benefits of Before and After Pictures
Lipedema liposuction treatment is a life altering procedure for people. It is understood that new patients would be anxious about the procedure since it involves significant changes to their appearance. Surgeons can present lipedema before and after images to new patients to help reassure them on the results and the ability to achieve aesthetic goals.
Some patients only require limited fat reduction. Others may need significant fat removal. Irrespective of the extent of the procedure, patients can make better decisions after looking at before and after images. Dr. McCluskey takes this serious, which is why his practice is successful. Countless patients have been satisfied with his work and his treatment toward them. He is a pillar of the community, and no one signs up for any treatment or surgery unless they are absolutely sure on what they are signing up for.
There's a variety of ways to reach this level of understanding.
Combining Images with Text
New patients may find before and after pictures helpful if they are accompanied with descriptive text that details the reasons for the procedure and how it helps in achieving unique goals. New patients may find it more convenient to understand lipedema before and after texts if it is accompanied with clear, informative, and concise text.
Sharing Images Online
Cosmetic surgeons can share lipedema before and after images in the following ways:
They can develop a photo gallery on the practice site for before and after images which has already been extensively done but not yet for this particular treatment as has been discussed.
Treatment providers can create a picture portfolio for displaying before and after pictures.
They can add images to blog posts that describe the procedure.
Surgeons can post lipedema before and after images on social media platforms to effectively optimize the posts.
Surgeons can make use of comprehensive before and after photo gallery for showcasing their skills. They can simultaneously inform new patients about all treatment options, including lipedema procedure.
Cosmetic surgeon Dr. Paul McCluskey receives patients from Atlanta, Marietta, Georgia, and nearby areas for innovative and advanced lipedema surgery procedures.
Contact Marietta, Georgia Plastic Surgeon Dr. Paul McCluskey at the Plastic Surgery
Institute

of Atlanta for a Consultation

For more information on procedures and treatments offered by Plastic Surgeon, Dr. Paul McCluskey and the Plastic Surgery Institute of Atlanta, visit:

Serving patients in and around Marietta, Atlanta, Roswell, Sandy Springs, Alpharetta, Buckhead, Morningside/Lenox Park, Virginia-Highland, Candler Park, Midtown, Inman Park, Poncey-Highland, Ormewood Park, Georgia and other surrounding areas.